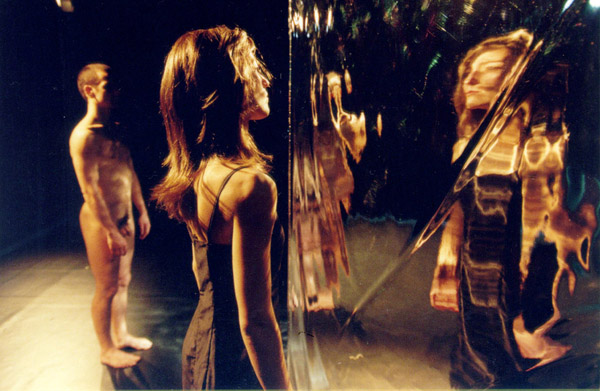 Dance production for a female and a male dancer. Examination of variations with costumes in dance.
Choreography and Dance: Janet Rühl, Arnd Müller, Costume: Midori Kawamura, Composition: Edu Gur, Lightdesign: Maik Blaum, Creative Coach: Andrea K. Schlehwein, Photos: Mirko Milovanovic
Conception:
Proceeding from the physical experience that each piece of clothing has its particular impact on movement, our approach to this project has been unusual, since all costumes were completed before rehearsals began. In dance productions, the meaning of costume usually is reduced to its practicality, but plays a minor role in respect to transporting their message. In modern dance, the popular costume for women is a short dress, for men a shirt and pleated trousers. This is true for dance theatre as well as abstract contemporary dance or modern ballet.
Costume is completely disconnected from the theme of a dance production. Costume must, in the first place, enable the dancers' movements which were developed in sports wear. Costume designers have to work with a pair of scissors at hand, sacrificing their concepts for stretchy cloth and short flimsy dresses. The standard argument put forward by dancers runs that in dance, movement is telling the story, not the fabric swathing it. 'How am I supposed to do this or that movement or lift my leg in a long dress...' the female dancer cries out. We agree. This is the approach to our project: 'Which movements cannot possibly be performed in certain clothes? Which are the movements emerging in clothing that is unsuitable for dancing?'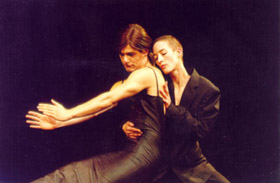 In conjunction with our costume designer, we chose three "every-day costumes" which represent different areas:
One costume is the track-suit: wide, tough, soft, robust, cosy, comfortable.The other represents the elegant evening dress: precious, figure-hugging, tight, delicate.The third is no costume at all, it's bare skin: sensitive, intimate, personal, direct, unprotected, naked.